Traveling overseas is a rewarding experience and you can do it for free. There are literally thousands of people around the world who would love to host you for a night or two in their home, for free, no strings attached. It's all in the name of trust and cultural exchange. Let me introduce you to Couchsurfing – the backstage pass to the world.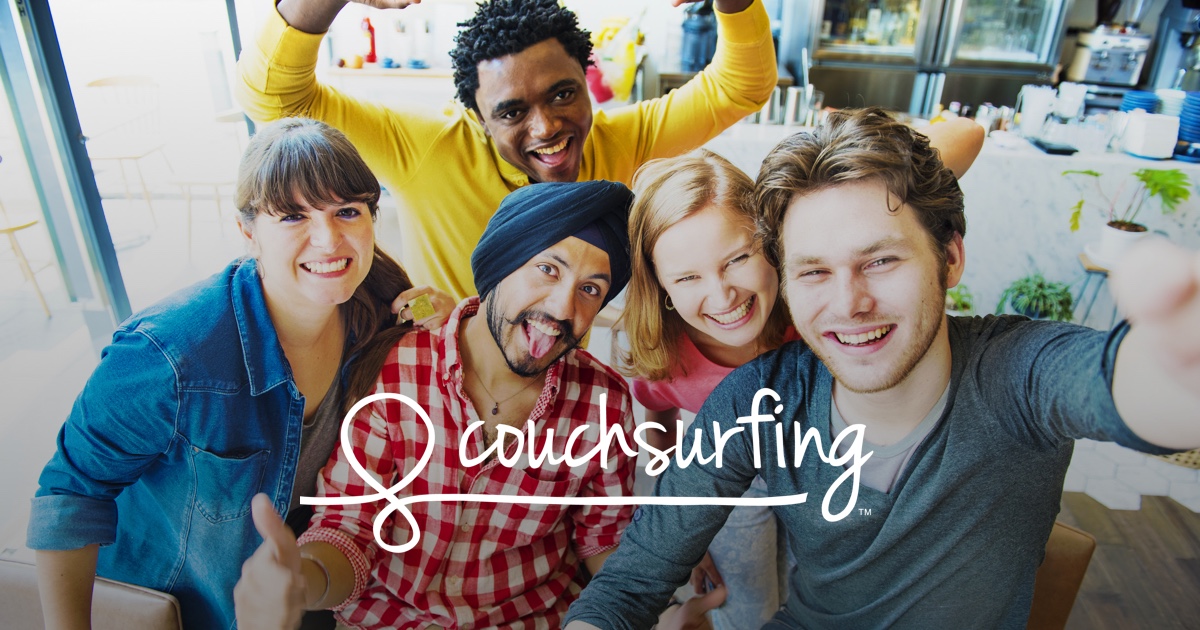 Signing Up
Once you've created a profile (Couchsurfing.com) with clear photo/s and have described your personality, interests, life and travel experience your almost ready to begin. The easy bit's done. This also where some people finish because they can't be bothered putting in time and effort to obtain trust within the community (the next step). If you're uncomfortable already I encourage you to keep on reading. There's more to Couchsurfing than actually staying in someone's home and vice versa. You can also use Couchsurfing for meeting other travelers.
Getting References
Trust in the Couchsurfing community is based on references (and ID verification). The reality is your chances of finding a host immediately after signing up and messaging a bunch of people without references (or a little effort) are pretty slim. Yes, hosts are "open minded people" but they have the exact same reservations and hesitations you probably have so far. To establish trust within the community you'll need references from other Couchsurfing members. There's a few ways to get the references you need. In order of recommendation (for a beginner):
Meetups
Hangouts
Hosting
Surfing
Meetups
Meetups are organised social events for CS members (often involving beer or a recreational activity). They are free to attend and every CS member is welcome – including you. You can expect to walk up to a group of people sitting in a bar/pub/park, introduce yourself and join an interesting conversation as if you were with old friends. It's a very welcoming experience. Meetups are held in just about any city you can think of. If you're getting started in your own home city that's an advantage as you may be able to find a couchsurfer/traveler to host (more on that later). You can find meetups through the CS website. Joining local CS groups can make it easier to find meetups and other events. Here's a link to the Brisbane Couchsurfing group: https://www.couchsurfing.com/places/oceania/australia/brisbane. Groups exist for every city you can imagine.
At the meetup genuinely get to know people. The organiser is usually a very trusted local member (sometimes an Ambassador). Organisers are often ideal people to draw experiences from. They are also likely to introduce you to other local members present. If you established enough rapport with a CS member over the meetup you might want to consider leaving them a reference. Leaving references is likely to be reciprocated. During the reference process you can specify that you met at a meetup – the site is designed to handle this scenario.
Hangouts
Hangouts are a little different to meetups. To find a hangout you'll need the Couchsurfing App. Download it to your phone, enable location sharing and make yourself available to hang out. Hangouts are individual CS member requests commonly created by bored travelers/couchsurfers looking for something to do. If you've ever been abroad and just wished you had a local friend who could hangout you'll understand the void "hangouts" seek to fill. The hangout request will specify what it is they want to do. Sometimes it's beer or coffee, often it's a day-time activity involving sight seeing, photography, walking/hiking and so on.
If you're a local you'll have a lot more to offer than you realise at a hangout. Local knowledge is valuable to travelers. On a hangout, consider showing the couchsurfer/traveler around your city. Take them for a run or to a nice park. Explore a museum or a hipster neighbourhood. Take a tram ride. There's endless ways to spend a day. Just try to avoid any suggestions involving expenses – my experience is that most travelers have very little money. Alternatively, if you're situation is that you're abroad – then be open minded about the hangout suggestions and have fun exploring the location together. Just go with the flow. The chances of getting a reference after hanging out with someone for a day are pretty high. There's even a chance you might feel comfortable enough to host this person – which brings us to the next stage:
Deciding to Host a Couchsurfer
Hosting means allowing a couchsurfer to stay in your home. It's an exciting and rewarding experience. It's also the most likely way to get a reference which will be valuable later down the track when you're the one looking for a host.
To find a couchsurfer set your profile to "Accepting Guests" and wait. To be more proactive – look at regular Couchsurfing emails which contain couchsurfers looking for a host. Alternatively, you could also offer your couch (sofa, spare room, tent space in the backyard, whatever) to a couchsurfer at a meetup or over a hangout. I recommend only doing this if there's rapport and you've read their profile and the references. Negative experiences are extremely rare but when they happen like the one Joanna described in her BlondTravels blog post "My First Negative Experience with Couchsurfing" – it's often a result of carelessly getting involved with just any random. Sorry…
Here's a few things to consider if the couchsurfer is right for you:
Is the couchsurfer's profile photo clear?
Has the couchsurfer's ID been verified?
Are there references from other couchsurfers [who also have references]?
Are the references from various locations [different countries] and over some period of time.
Is the couchsurfer's period of stay / travel plan clear? [a set time and outward destination]?
How many people are they traveling with?
Do you have similar interests?
Have they agreed to the meetup location and non-negotiable departure date?
Here's a few red flags:
The photo is unclear or is of something other than a person's face.
There's no ID verification.
The couchsurfer only recently joined.
References are all from the same location and are only very recent.
References are from other couchsurfers who don't have references.
The couchsurfer doesn't have clear travel plans.
The couchsurfer doesn't care to explore the local area when you're not home.
You have strong conflicting interests.
The couchsurfer has asked inappropriate questions about your personal life.
The couchsurfer is a local.
The couchsurfer wants to negotiate with your set departure date.
If your potential couchsurfer checks out (most likely will) it's time to prepare for their arrival. Just in case you needed a reminder of why you're doing this: Your goal is travel abroad. Hosting does require a little effort but your chances of being hosted abroad increase increase with every reference.
Hosting Done Well
Relax! The experience of hosting can be very rewarding for the both host and couchsurfer. You'll learn a lot about travel and life from your couchsurfer. Some couchsurfers have amazing stories to inspire you to travel and live out your dreams. In some cases a couchsurfer may recommend a special host for your very next destination. Hosting requires good communication and hospitality. It's pretty simple and enjoyable when everything's in order (below).
Here's what you could do to be a great host:
Sleeping Arrangements: Show the traveler where they can sleep. Remember "couch" can be anything from a sofa, couch, space on the floor, spare bedroom or even a tent in the backyard.
Immediate Needs: Ask what their immediate needs are? Do they need to charge their phone? Replace a broken item? Perhaps they need some groceries ahead of the outward journey.
Shower: Offer as soon as possible the chance to shower and rest their legs if they've come a long way. The opportunity to freshen up or rest a little is always welcome.
Relax: Avoid exhausting your guest if they've just gotten off a 14 hour bus ride. If you have the time you can even arrange to pick up your guest from a bus or train station.
Plan Activities: Plan an activity to do together. Free is best. BBQ? Walk in a national park? A local beach? Consider your shared interests. Explain the plan times, expenses and duration
House Rules: Set house rules: Shoes off in the house? Smoking? Drinking?
Schedule: Specify if you are working what times they should leave the house.
Departure Date/Time: It's a good idea to re-confirm the departure date and time. I do not recommend extending departure dates.
Facilities: Point out all the things in your house they can use like the washing machine, laundry line, Wi-Fi, green house, tea, coffee or toast and so on.
Others: If you have family members or flat mates – introduce them. Hopefully everyone inhabititing the house has already agreed to hosting.
Dinner & Diets: I have almost always been offered dinner but it's never expected. Some couchsurfers might have some food with them. Make sure you read your traveler's profile carefully before preparing dinner – many travelers these days are vegetarian or vegan.
Be friendly and enjoy your journey together. Don't forget to write a reference for your couchsurfer after they've checked out. I am very sure one reference is coming your way too shortly.
Find Your Own Host
If you've made it this far through the blog post, well done. Maybe you're now considering how to finally find a host for your trip? I hope by this time you've completed a profile and are imaging how you'll get started. This is the last stage – being hosted.
Simple. Log in, search and filter the available hosts to find your right fit. You can use keywords like 'vegan', 'cyclist', 'hiker', 'photographer', 'blogger','football' (examples) to help narrow the selection. At the time of posting this London has 37,134 members and Berlin has 117,939. Yep, it's that popular! You can also set age and gender preferences. When selecting a few hosts for a short list to message consider these questions:
Has the host recently logged on? Are they actually "active"?
Is the host actually accepting guests? (read their profile properly).
Do you have common interests with the host?
Their photo is clearly of their face.
They have been ID verified.
References are from different locations.
References are from others who also have references.
Requesting a Couch
Once you've found your potential host/s (the short list), you'll need to send a message requesting to stay with them. This is not the time to use your administrative automation skills. Forget about copy-paste messages and templates. The best and most effective way to do this is manually. Take a tailored approach. When you write to them make reference to any common interests. Demonstrate that you've spent the time reading their profile. Hosts are particularly found of genuine requests. You can also express some humanity by addressing the potential host by name.
The worst thing you can do is copy-paste a template message. The shared belief in the Couchsurfing community is that a "guest" who can't even bother reading a profile is not likely to show much consideration in your home. Some hosts in popular destinations (London, Berlin) receive many requests per day and they're often only accepting requests from couchsurfers who have bothered to write properly. Template copy-paste messages get deleted without a response. So don't spam. Be genuine.
Here's what you should include in your message to a potential host:
Their name with a greeting in your language (or theirs).
Who you are and where you're from.
A reference to their profile and why you'd like to stay with them.
Your travel plan (arrival and departure date).
A telephone number to get in contact with you outside Couchsurfing (optional).
Likelihood of the request changing: if you are contacting multiple members in the same location advise them that you've done this just in case you don't receive a response. This will make it less awkward if you accept an offer only to later be offered another. If your plan to visit their city might change because of a particular event or schedule – you should mention it.
Once you've been accepted make sure you know where and when to meet your host. You can clarify the address or meeting point in a further message. Be punctual. Do your best to arrive as awake as possible. In some situations I've stayed overnight in a hostel to get some rest the night before meeting my host. Some hosts really like to talk all night over some beer/wine so it's best if you're not falling asleep. Some hosts are really understanding and will offer you the chance to sleep whenever you need it. It varies. People are different.
Remember your trip is at their expense. You're taking up their time, using their electricity, laundry, space, food and water so the best thing you can do in return is share the hospitality experience. Do your best to make as little mess as possible and clean up after yourself, always. This means offering to wash dishes, definitely making up the bed in the morning and not leaving any trash. It's common to bring a small gift along too. A bottle of wine or chocolates especially if it's something from your homeland will be appreciated – but never expected. It's pretty common to offer to cook dinner. Couchsurfing is strictly a free experience.
Conclusion and What to Expect
Couchsurfing is a free way to travel the world. In addition to it being free – the experience of meeting a traveler or a local abroad can be really inspiring. I could write a whole post about the experience another time… But let's say there's something very cool about hanging out with a local and being spared all the tourist traps. Couchsurfing can also involve meeting other travelers and just making a go of it. It can also mean staying in someone's home – for free. It's a really genuine way to travel. However, free travel does comes at the expense of a little effort and Couchsurfing isn't for everyone:
Building trust within the Couchsurfing community is necessary and for some – obtaining references can be too much effort and bother. It requires meeting people and sharing hospitality. In my opinion meeting travelers and being open to others is the whole purpose of travel anyway. So if you genuinely enjoy other cultures, places, people and you value travel experiences Couchsurfing will be an effortless experience for you. If you're just looking for "free accommodation" and you don't really have an interest in knowing people then Couchsurfing might not be ideal (that's OK). There will be times when your own space but you can always combine Couchsurfing with Hostels and Hotels to get the best of all worlds.