Meet M's loft Airbnb in central Tallinn (not the Old Town). Located in a renovated well-kept 100 year old building its professionally decorated New York black-grey style is very fitting. So far this property has been online for just 3 months with a straight 5 star rating (10 reviews). Let's take a closer look at this newly listed loft and consider some Airbnb tips for the journey ahead in #Estonia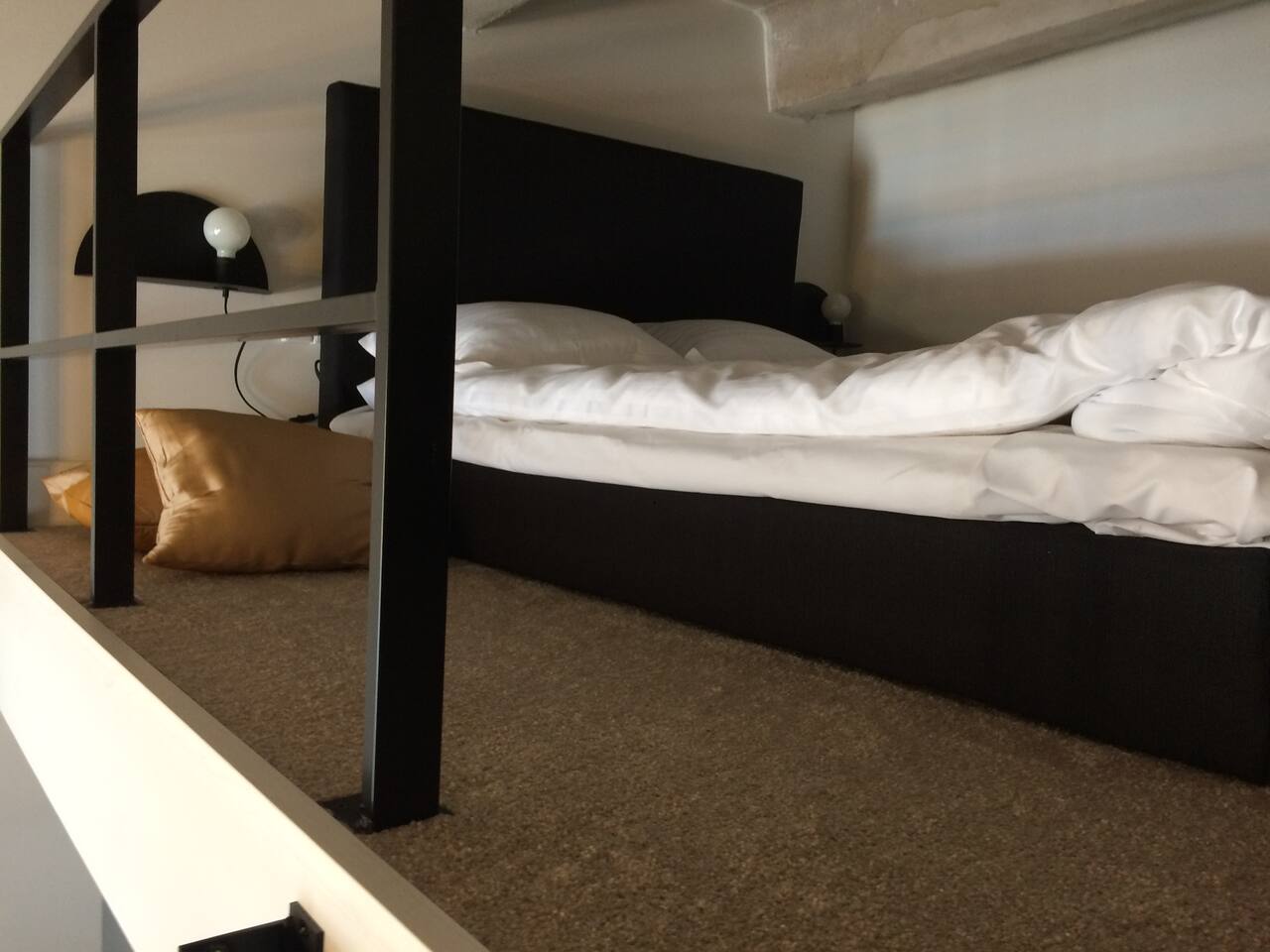 Price Point
179€ for 3 nights (51.67€ x 3 + a 24€ service fee). No cleaning fee was charged. This is a reasonable price compared to similar Airbnbs nearby. More reviews are needed. Some improvement ideas could allow price increases during peak times without risking guest satisfaction or reviews. Here's 2 similar Airbnbs:
"Unique loft in a former furniture factory"
Unique loft in a former furniture factory is 75€ per night + a service fee and is located 200 meters from Vineeri tram stop. The listing attractively describes the building, neighborhood and key features of the apartment including the size, character and architectural history.
Amenities are extensive, the most compelling (by comparison): coffee machine, cooking basics (salt, pepper, oil), oven, luggage-drop-off, 20% monthly discount, check-in after 2PM and a "flexible" cancellation policy. Photos are professional, well-lit and demonstrate the property's character however some photos are small and cropped.
The host's profile shows complete Airbnb verification (with government ID) and the host's spoken languages are also advertised as English and Finnish.
"Modern quiet loft apartment near Old Town"
Modern quiet loft apartment near Old Town is 58€ per night + a 30€ cleaning fee + a service fee. Also located by Vineeri tram stop. The listing's description could be written better but still manages to describe several attractive qualities like high ceilings, windows which face a courtyard, low noise levels and a promising "like home" feel.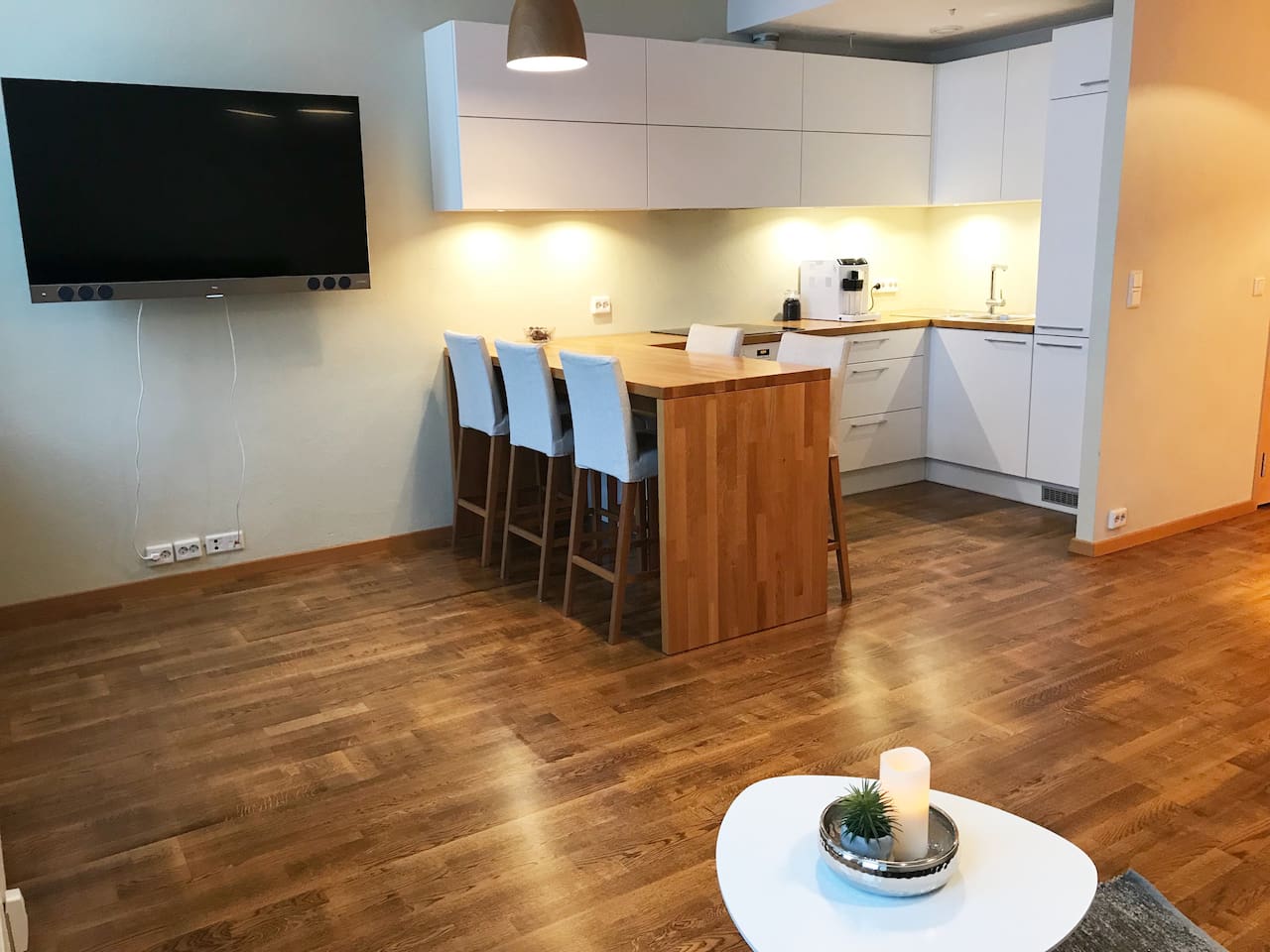 Attractive amenities (by comparison): dryer, bathroom essentials including soap, coffee maker and cooking basics (salt, pepper, oil). Check-in's after 2PM (but by 9PM) and the cancellation policy is "flexible". The photos are professional, large, well-lit but could be ordered better.
The host's profile shows a clear face, complete Airbnb verification (with government ID). No advertised spoken languages.
M's Airbnb Strengths
Availability: M's calendar is open until late January 2020 and further bookings are very likely. Similar Airbnb's had sporadic availability until end of October.
Check In: M's Airbnb has self check-in – a great selling point. This straight forward and convenient feature should be highlighted in the listing. Airbnb guests filter searches by self check-in.
Price: Cheaper than similar properties. Reasonably priced.
Style: Professionally decorated in a minimalist New York style.
Comfort: Mattress and pillows were comfortable. Sheets were clean, new and modern by JYSK. There was plenty of space around the bed. Wall mounted side "tables" and power point were useful for charging my phone. The air-vent nearby the bed provided fresh air throughout the night.
Kitchen: A useful space. Very clean and tidy.
Bathroom: Spacious shower. The washing machine was very convenient amenity especially as it was so hot in Tallinn (late July).
Location: Easy tram access to Tallinn Old Town, Tallinn Airport and Ülemiste Shopping District.
Airbnb Ideas
Here's a few ideas specific to M's Tallinn loft:
Welcome Message
Make a good first impression and save time with a welcome message template. They're effective when written clearly. It's the fastest way to welcome your guest with useful check-in information. The example below is 160 characters (1 SMS) but longer messages are possible:
Welcome to M's Airbnb: 1 Tartu Tn Tallinn (Apt 7). Self Check-In after 2PM. Door Code 3871#. WiFi: M's Loft. PWD: Tallinn2020. Aitäh & head reisi! Ph: 57534747.
Goodbye Message
"Goodbye Message" templates should thank guests for staying and encourage them to leave a review. If your planning to leave a 5 star review for them – mention it. Never forget to thank your guest for staying. Here's another 160 character (1 SMS) example:
Thanks for staying at M's Airbnb. It was our pleasure hosting you. We've left you 5 stars. We're new to Airbnb so please leave us a review too. 🙂 Head reisi!
Airbnb Description
There's a million ways to write an Airbnb description but this revision might be useful:
A fully equipped stylish loft apartment with 24 hour self check-in. Located by "Vineeri" tram stop (line 4), 5 minutes to Tallinn Old Town / 10 minute walk. Easy public transport to Tallinn Old Town, Port of Tallinn (D Terminal), Bus Station, Tallinn Airport (25 minutes) and Ülemiste Shopping District. A cafe and pharmacy are in-front of the historic building. Rimi supermarket is 5 minutes walk.
The building is a renovated historic industrial building, older than 100 years. The limestone walls saw life before the first republic of Estonia.
NB! Not suitable for children under 10 years because the bed is on the second floor.
I am happy to help you if needed.
Check-In Times
The sooner a guest can check-in the better. Where a check-in time isn't specified Airbnb will default to 3PM (15:00). I recommend an earlier check-in time closer to that used by many hotels – 2PM (14:00).
Photography Tip
Wider Airbnb photos are more appealing than close-up, narrow or vertical photos. Selfie-sticks can help you reach great angels. If you're using a mobile phone use the landscape mode. Avoid blurry photos by using a timer and tripod or stand if necessary.
Airbnb's preferred resolution is 1024 x 683.
Upload photos in a logical order, remove any duplicates and decide which photo will be your first photo. The first photo should capture as much as possible. For a loft – the best angle might capturing the sofa, lounge, kitchen and bed like this one example: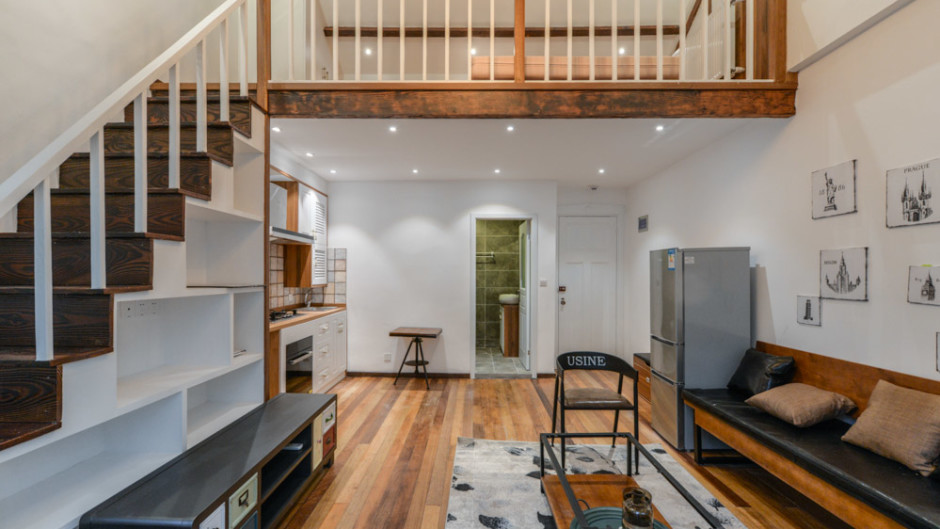 Airbnb Profile and Verification
List the languages you speak in your Airbnb profile to attract non-English speaking guests. Russian, Suomi, Swedish and German are options.
Complete the Airbnb profile verification process by providing your government issued ID to Airbnb. Guests will then trust with confidence that you are who you say you are. This is particularly useful if you intend to travel with Airbnb.
You might also like to write about yourself too depending on the level of interaction you intend to have with guests.
Simple Bathroom Extras
Include these items to add more value to your bathroom:
wall-mounted soap dispensers,
disposable razors,
one-time use toothbrush and toothpaste, and;
shampoo and conditioner.
WiFi and TV
Rename your WiFi connection to reflect your Airbnb's name and set your own password. Try accessing the router settings at 192.168.1.1 or call the provider. Custom WiFi details can be added to your welcome message or displayed in a small picture-frame like the example below. This cute sign can also be used to gently remind guests of rules like "no shoes in the house".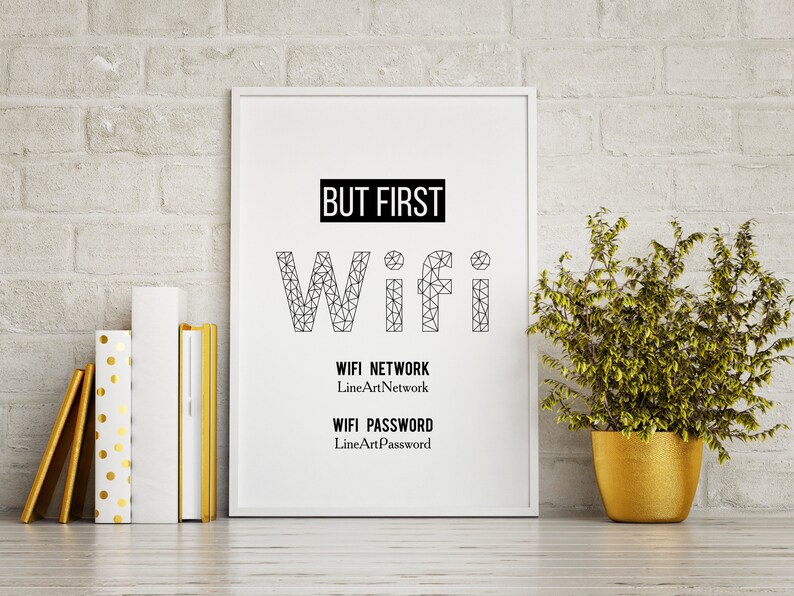 Label TV and Cable / Digitbox remotes with self-adhesive letters.
Kitchen Ideas
A coffee machine and coffee (and tea) is a must for any Airbnb.
Cutlery and plates are standard but only 1 size of plate is necessary in my opinion. Bowls are important – especially for breakfast.
Basic cooking items like oil, salt, pepper and sugar are very common too. There's a range of additional items you can supply for around 1€ like – dried pasta, noodles, herbs, spices, biscuits, breakfast cereals, muesli and/or kama.
Heat, Noise and Fans
When it's hot windows are open. When it's noisy windows are closed. When it's both hot and noisy guests can be uncomfortable. Air-condition units are expensive and air vents require construction work and building approval.
Fans are probably the most practical solution to this dilemma. Thankfully these days it's possible to buy fans without sacrificing aesthetics. Here's a cool example:
Bed Improvements
To prevent mattresses from sliding off the bed use stick on velcro squares between the mattress and bed.
Extra Blanket and Towel Storage
Extra blankets can be unsightly if left rolled up in open spaces. If they don't fit into the storage unit – try compression vacuum bags.
Another but more complex idea is to look at building or purchasing a storage unit to fit the blankets and other products.
Art and Interior Design
Tallinn is a very attractive tourist destination in its own right. Where possible incorporate Tallinn or Estonian design into the loft's interior. Avoid products like pillows and paintings which display words like "New York" or photographs of other cities – especially those outside Estonia.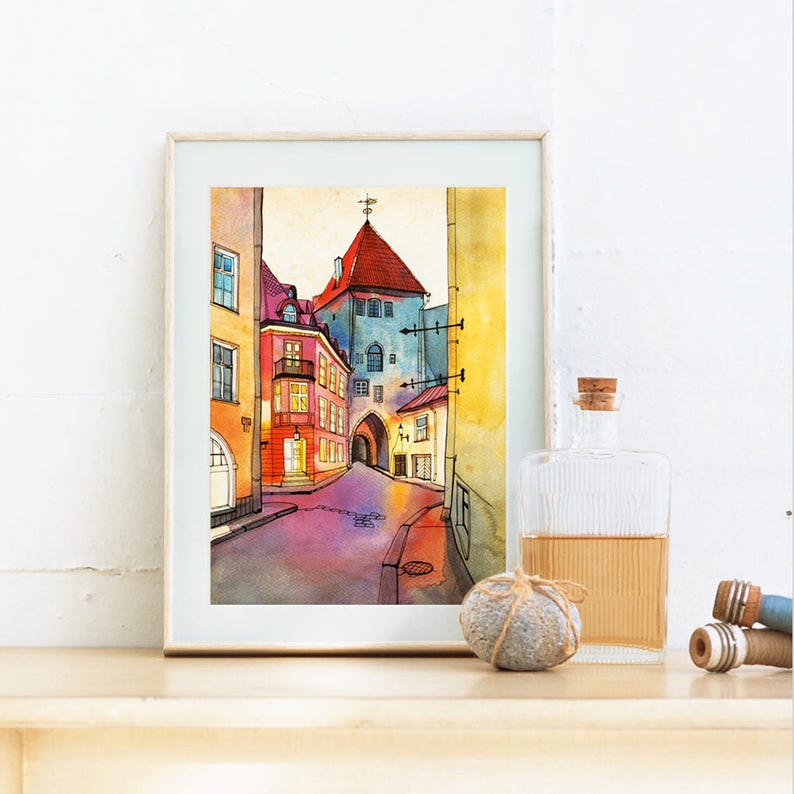 Icons from foreign cities like Paris, New York, London or Rome can detract from your apartment's natural appeal. Embrace the city you're in. Buy Estonian.
Lint Rollers
Use a lint roller to remove hair from towels and bed sheets. This cheap but effective product never fails.
Simple Special Touches
An umbrella for rainy days.
A welcome drink in the fridge.
Disposable Razor.
Chocolates, Pop-Corn, Bottled Water.
Fresh flowers.
Fruits.
A welcome message card.
Books, Magazines (see also Airbnb's Free Gift).
Airbnb's Free Gift
Ensure your shipping address is up to date. Airbnb may ship you a free gift which you can use to add value to your apartment. In my case I simply asked Airbnb for a free gift (after a couple of years). They agreed and I received a "toppling tower" game. Completely free. This simple but fun game might be useful for guests looking to stay inside during colder winter days.
Board games and books seem pretty popular in Estonia too. Why not look at including a few?
Airbnb Superhost Status
Superhosts are experienced hosts who provide a shining example for other hosts and extraordinary experiences for their guests.
Being an Airbnb Superhost has its rewards! To name a few – your property will be given priority placement in searches and a dedicated filter enables guests to narrow their search to display Superhosts.
For each year of maintaining Superhost status, you'll receive travel credit. Keep a close eye on your progress here: https://www.airbnb.com/progress/opportunities/superhost and work carefully to achieve this first mile-stone goal.
Stay Up To Date
If you've improved your property with any of these ideas be sure to update your Airbnb's listing so customers know what a great job you've done.
Thank you. Aitäh! M for the enjoyable stay and the chance to review your Airbnb loft. Kõike head!
---
Pst! Looking to become an Airbnb Host? Earn money simply by signing up via this referral link: www.airbnb.com/r/jaim93