Planning to travel through the Baltic States?
I skipped the typical Baltic Cruise option and instead travelled by road from Estonia, through Latvia and into Lithuania. This is my experience visiting 3 destinations in Lithuania (Palanga, Kaunas and Vilnius) and why I'd recommend travelling in the opposite direction.
Let's begin!
Viljandi, Estonia to Palanga, Lithuania: 500 Ks
Our journey begins departing Viljandi, Estonia for the first destination – Palanga, #Lithuania. The first part of the drive was fine. I mean, the very first part. The bit through Karksi-Niua's rolling hills, open fields and eventually over the border to #Latvia.
Initially, Latvian drivers were only slightly more hectic than Estonians. Things got more intense past Riga where the main dangerous act was head-on over-taking while speeding.
There's nothing like the feeling of another car in the wrong lane, heading straight for you at 120 kmph!
Latvian roads weren't great. Not terrible. Plenty of large pot holes and pebbles.
One good thing about driving in Latvia is the music. The radio stations play the best local modern Latvian tunes. I tried to find an example of "good Latvian music". Possibly the worst example popped up in Youtube. Enjoy:
OK let's move on to Riga. Briefly.
Rolling into Riga, Latvia for lunch we used HappyCow to find "The Beginnings" restaurant. We picked up a couple of beyond-meat burgers. Not bad!
Riga's very vegan friendly – if that's your thing.
While smashing our burgers by the car, a Latvian man notices our EST number plates. He strikes up a conversation. We're starving but he maintains the banter. "My daughter's boyfriend is Estonian". He impresses us with his trivia about Estonian singers and athletes from the 1970s. We really just wanted to eat and hit the road. He seemed offended to learn we were only "passing through" Latvia.
European number plates show the vehicle's country of registration. D for Deutschland, EST for Estonia, LV for Latvia and LT for Lithuania. Spotting where other drivers are from is a fun road trip pastime.
Lithuanian roads are great! You notice the difference from the moment you cross the border. They're the best in the Baltics. The roads need to be good because the drivers however are the worst!
Forget the novelty pastime game of foreign number plates. Lithuania's game is dodging drunk truck drivers, talking on their phones, speeding and swerving all over the place.
The drive was pretty stressful right up until we arrived in Palanga – 500 kilometers since Viljandi, Estonia.
Palanga, Lithuania
"Palanga" reminds me of Los Lobos & Gipsy Kings's song "La Bamba". It's Lithuania's answer to a Santa Monica style strip or Australia's Surfers Paradise in the late 90s. A fun, lively costal strip with restaurants and light entertainment.
Palanga's a Baltic Sea town, 30 kilometers from Klaipėda.
The entire town is wholly dedicated to tourism. Palanga evolves around Basanavičiaus street. Restaurants line both sides, tourists walk up and down in droves. Souvenir shops and token operated gaming machines create a county fair vibe.
At the end of Basanavičiaus street is a beautiful jetty which stretches out into the Baltic Sea. A busker sings Ed Sheeran's "shape of you" and tourists stand around enjoying the sun.
It's the best weather we've had in many days. Maybe even a week or so. We're now almost as "south" as Copenhagen.
Dinner that night was a little rough. We'd left it a bit too late and I couldn't find anything. Even the kebab shop was out of options. I asked for a vegetarian option like a falafel to which the girl responded: "No. Good luck finding something!". Unreal. What kebab shop has no falafel these days? The one in Palanga. Without customers.
Spared by friends from the most unusual places, I found a small Georgian food stall. A pretty unique dish discovered called… "ნიგვზიანი ბადრიჯანი". Eggplant rolls wrapped around a walnut paste with pomegranate seeds on top.
The following morning I used Strava app to see where everyone runs around Palanga. Plenty of options.
Not far from the jetty is a long walking, running and cycling track. There's also some woods too. It's popular with the locals. Despite being tired from yesterday's drive – I manage 5K.
Breakfast back at the Hotel was OK. Half asleep, I put 2 slices of bread into the same toaster slot and slowly woke up.
1 thing I've learnt from traveling it's to never have coffee at the hotel. Cafés always seem to offer a little glimpse into local life. I was happy to find my Baltic favourite in Palanga!
Youtubers Nick and Rachel got me hooked on this café chain – only available in Estonia, Latvia, Lithuania and USA. Hey, before you get all snobby, just go visit one. They're cheap and the coffee's excellent. The locals love it. I've noticed no single caffeine café is the same too. They all look a little different. The one in Palanga's built into a wooden house with massive chairs out the front.
After coffee I noticed that kebab shop was still empty. We head off to explore more off Basanavičiaus Street.
Palanga appeared much like any other town in the Baltic States. I mean that in a nice way. There's parks with flower beds, the occasional Soviet monument, fruit and vegetable markets, local clothing stores and everything else you'd need.
One noticeable difference was that English wasn't spoken very well compared to Latvia and especially Estonia. Russian was a useful second language on a few occasions.
In the Baltics States visit the local markets. The Baltic States are rich in many berries. Blueberries, red currants, black berries, strawberries, gooseberries, cherries and so on. The selection is pretty impressive. Best of all it's all fresh. Often it's picked wild from a forest or home-grown.
The following day we returned to Basanavičiaus Street for a little revenge on the Lithuanian people. We hired a 4 person bicycle and made a circuit around the town.
Add a little beer to the mix and this pedal powered tank dominates the footpaths, roads and disable parking spaces as well.
The following day we took one last photo in Palanga outside the Baltic Dunes hotel and headed back on the road.
Palanga to Kaunas, Lithuania: 240 Ks
The drive to Kaunas was mostly uneventful, thankfully. Not to say the drivers were much better than the rest in Lithuania, I just mean we didn't die.
The weather had taken a turn. Gone were those bright sunny skies. It was now grey and rainy which we didn't mind. It's funny how a few days of sunshine can make you accepting of bad weather. Sunshine's great in moderation.
Kaunas
Arriving to Kaunas was fairly simple. We first stopped into a cute little vegan restaurant / bakery called Arbatine. Interesting food, although vegan it was somehow very traditional. Very Lithuanian. We took a couple of pastries with us and headed to our Airbnb.
I was a little skeptical of this Airbnb at first. The building itself was very old. Really Soviet. Soviet buildings aren't necessarily bad. Some of them can be quite beautiful and as culturally significant as anything else. But there's something holding Soviet buildings back…
Post-Soviet countries still suffer in many ways.
It's not necessary that they're backwards. The Soviet Union ran for about 69 years. It was the world's greatest social experiment! All would agree the Soviet Union built a lot of stuff. A lot of good stuff. Houses, buildings, trams, cars, just about everything and anything you can imagine.
The Soviet Union was a massive deal. For some the Soviet Union was all they'd ever known and so its collapse must have been soul destroying. The system which made and controlled everything was finished 25 December 1991.
After it's collapse order was gone, chaos, freedom and capitalism had arrived. The concept then of private-ownership must have been foreign. Apartments were just given from the collapsed governments to the dwellers at the time. Titles were commonly traded like "get out of jail cards" after the collapse. Some traded their apartments for money and left to Western-Europe, America, Australia and so on.
Others stayed and lived in their apartments.
What a great windfall. Free apartments! Unfortunately, what wasn't bestowed were some values and shared responsibilities. So the apartments remained lived-in but not developed – especially the common areas and building facades.
Not all reasons for this were cultural.
In a time of serious economic collapse those who had money kept it to themselves. Little to no investment occurred in many apartment blocks right across the post-Soviet world. Conditions vary from country to country. Countries which saw mass emigration and/or bankruptcy fared the worst.
Today it's still common to find original paint peeling off walls, dirty electrical wiring hanging exposed from ceilings and thick cobwebs covering windows.
Soviet nostalgia is a thing. A friend of mine put it like this: "When people say things were better in the Soviet Union you know things are really bad".
Life is however improving, especially in the Baltic States. Inside renovated apartments are completely modern fit-outs and kitchens equipped with the latest mod cons.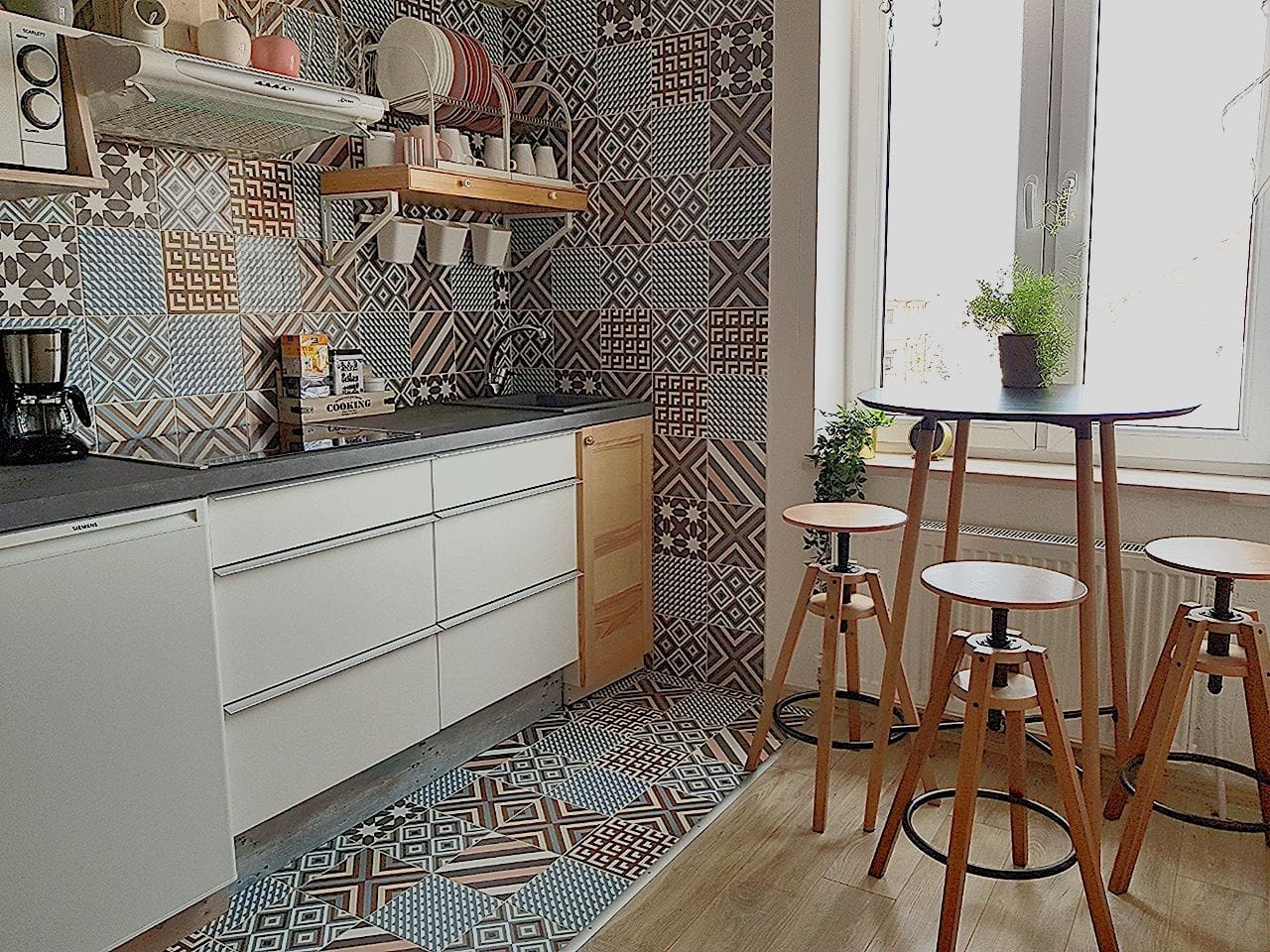 We scored a bargain Airbnb. A beautiful apartment: €34.64 a night for 2 people. We had a regular bed and a loft bed. You could easily fit 4 or 5 people (with 1 on the sofa). We were delighted with the fully equipped kitchen, TV, lounge room and most conveniently there was a washing machine.
As the sun returned we walked the Kaunas Old Town.
Kaunas Old Town was paved with cobble stones. Many of the buildings facades were detailed, colourful and well maintained. The closer you got to the centre of the Old Town the more lively it was. Cafes, bars, restaurants, churches and people were everywhere. Typically European.
Taking in as much of the surroundings as possible I wondered how does one Old Town standout from another. In my very bias view Estonia's Tallinn Old Town is the best. OK – yes of course Tallinn's a bustling travel destination but why though? I mean Kaunas and Tallinn are made of the same stuff, right? Does this question keep town planners up at night?
To comprehend and understand how one thing is different from another, one must contrast and compare. 2 Russian guys walking past at the time must've had a similar conversation, something like: "What about British people…Or those Estonians… Oh what about those Finns? Yeah those Finns – they're very weird…".
People. I guess it's people that make one town or city different from another. Maybe that's why Kaunas had embraced so much artistic work. By incorporating the artistic expressions of its inhabitants into the city walls, Kaunas took on its own unique identity – reflecting back the same stuff that makes Kaunas, Kaunas.
After all the street art, another unexpected pleasure was discovered. Alucha! Tasty little fruits. We plucked them from an overgrown tree. I had to look up the word "alucha" later on to learn it's "cherry plum" in English.
They probably sold these at the fruit markets in Palanga.
Later, we mucked around by the #Kaunas sign. You couldn't get cheaper marketing these days than a huge instagram hashtag in the middle of town. Someone wants you to visit…
After a whole day out in Kaunas we headed back for the modern traveler's equivalent of a Hotel suite with room service. By that I mean, our Airbnb apartment and dinner delivered by bicycle through the Wolt food app.
We slept well that night.
The following morning we had a cheap breakfast in the Airbnb but had coffee at Caffeine Café back in the Old Town.
After coffee we stopped for 1 last photo. Just by a small underpass before the Old Town. It looks like an entry to a metro. But it's not.
We passed through this underpass a few times during our stay in Kaunas. Once there were buskers playing classical violin music here. A very charming way to welcome weary travelers.
Kaunas to Vilnius, Lithuania: 105 Ks
After an hour on the road we arrived in Vilnius, Lithuania. The shortest drive so far!
Much like the day before in Kaunas the sky was again threatening but nothing came of it. It's routine. Grey skies bring a little rain usually early in the morning but by 11:00 the sun's out. This was our experience in early July.
Vilnius is in the south of the Baltic States. It's 40 kilometers to the Belarus. Kaunas, where we were yesterday is about 115 to Russia. By Russia I mean that enclave between Lithuania and Poland. They call it Kaliningrad Oblast. Formally East Prussia. I wonder how many people know that it's Russia just over there…
Vilnius seemed in my eyes the most Eastern of all the Baltics. Not necessary a bad thing. Maybe, because the first thing we saw was an Orthodox church. Or; Maybe it was the Soviet trolley buses. They were so old. In a way the city reminded me a lot of Belgrade, Serbia. I love the Balkans.
We booked another Airbnb. The photos promised a piano and a huge apartment. The host was pretty friendly. Her English was perfect. She offered a couple of recommendations for Vilnius, handed us the keys and left us to it. The Airbnb was huge. The biggest apartment yet and the neighbourhood was very convenient. Shops and even a cinema were nearby. Sadly the piano wasn't available. Probably for the best!
Vilnius Old Town was amazing. Beautiful, historic and full of life. Ideal for food and bars. Some of the bars really impressed me. Very sophisticated. There was plenty of people around. Largely a 30+ crowd but with pockets of younger people too.
Stiklių gatvė, Vilnius was my favourite street.
Little boutiques and restaurants lined up either side. Each building was painted in earthy clay colours typical of Italy. A Palazzo Versace logo would have gone unnoticed on these walls.
Some places had wooden shutters reminiscent of Tallinn's Old Town. The colourful balloons were a nice touch. I've noticed a lot of towns are using colourful bunting flags so this was something unique. Why though was the Old Town or especially streets like Stiklių Gatvė open to cars? I'll never know… Most tourists kept close to the walls. It was at times difficult to take photos (because of traffic).
Inside the BMW in the background is a woman sat idle in the middle of the narrow street with the engine running. I look in through the window as I go past. She's scrolling through her facebook feed for about 10 minutes before moving on.
Despite the traffic, Vilnius Old Town was still incredibly beautiful. Not as arty as Kaunas. This was a different type of town. But still the occasional Banksy inspired stencil graffiti could be seen here and there.
In search of a drink we pass classical music buskers and turn into a passage way through a facade. The walls would have seen life before the Republic of Lithuania even existed. Following the dilapidated footpath we arrive in a swanky bar. It's an outside-inside sort of place. There's music. There's food and good vibes. My kind of place.
We decided on The Botanist on Didžioji street. A small bar advertising Genys Brewing Co. It was worth it. By this time or shortly after Vilnius Old Town was really growing on me.
Before ending the Lithuania road trip and debarking on the return to Estonia we stopped by the Town Hall.
This sight had more recent history to offer. Town Hall Square remembers – 25 November 2002. The day Lithuania joined NATO, aligning itself diplomatically to the West – along with Latvia and Estonia.
NATO membership offers protection from Russia (or any other "enemy state"). One only needs to look at recent events in Ukraine and Georgia to realise how important NATO membership is for a small independent Baltic State.
Off the Town Hall is a small plaque which remembers President George W. Bush's speech:
"…anyone who would choose Lithuania as an enemy has also made an enemy of the United States of America." – probably referring to NATO's article 5.
Outside Vilnius's Old Town we took another photo or two and headed back through the streets to our Airbnb. I thought of what I might recommend others planning a Baltic trip.
I'd probably suggest starting in Lithuania and ending in Estonia. Lithuania is beautiful and very Baltic in many ways however, in my experience Vilnius felt most Eastern.
Travelling in the direction of Lithuania-Latvia-Estonia would expose a traveller to shifting Baltic cultural nuisances gradually. Slowly the languages become less Slavic and the Orthodox churches fewer. Over time the differences between East Europe and North Europe would be better realised.
Lastly, a special mention…
Reflecting on this trip some weeks later I must say Kaunas was my favourite Lithuanian city. Researching the city a little more, I recently came across Kami's blog who described Kaunas as possibly one of Lithuania's coolest cities and like might even prefer it to Vilnius. It was a pleasure reading someone's very similar experience and observations of this beautiful city.
Get inspired – read her blog (with beautiful photos here): https://www.mywanderlust.pl/visit-kaunas-lithuania/
Oh Pst! Make your own eurotrip with Airbnb. Use my referral link to receive 30€ credit: https://www.airbnb.com/c/jaim93
---