Meet R's Airbnb in central Riga (right in the Old Town). It's just about as centrally located as you can get. Next to a small bar in a narrow alley-way off a busy square. It's been online since about May 2019 with a straight 5 star rating (27 reviews). Let's consider a few ideas…
Price Point
€222.88€ for 2 nights, 3 people (74€ x2 + 45€ cleaning fee + 29.99€ service fee). Similar listings are available (modern apartments, in the Old Town with 2 or more bedrooms) for just under 200€. For example: Sunny Mansard [60 reviews, 5 stars] and Airy Studio Zābaks [87 reviews, 5 stars] – at face value it might be a good idea to consider more competitive pricing especially early on.
Lounge Room
The vintage nautical tripod light is a unique stylish object. If more nautical items were added to the apartment it would be very fitting.
Make this item more practical by considering its position. As there's 2 of these in the airbnb, swap these bottom light with the one up top. The idea is to have the smaller light in the smaller room and the larger light in the larger room (lower deck). A word of warning. The larger light is very heavy. It stands with pointed metal spikes on wooden floors. Use some rubber anti-skid pads to prevent it from falling over.
WiFi and Internet
Rename your WiFi connection to reflect your Airbnb's name and set your own password. Try accessing the router settings at 192.168.1.1 or call the provider. Custom WiFi details can be added to your welcome message or displayed in a small picture-frame like the example below. This cute sign can also be used to gently remind guests of rules like "no shoes in the house".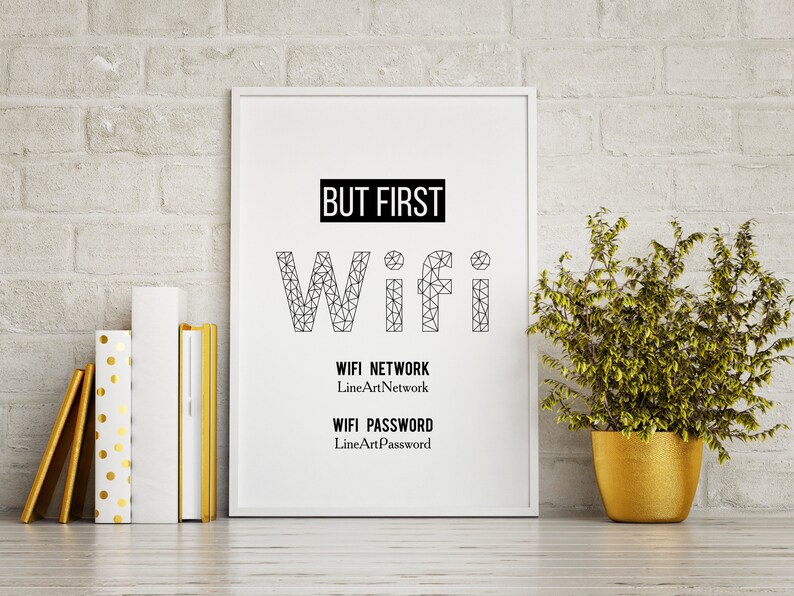 TV
The Google Chromecast device is great for older flatscreen TVs or setups without cable. However, it's important to make the device as easy to use as possible. Here's a few recommendations: plug the Google Chromecast into HDMI 1 (not 2), if possible configure the TV to default to HDMI 1 when it's turned on (not analog TV scan).
Provide simple instructions in a "welcome book" with a URL to a useful youtube video.
Railing
Top railing outside the bathroom is very lose. It needs to be stronger.
Bathroom & Toilets
Distribute towels and toilet paper equally between upstairs and downstairs. During our stay we had to take toilet paper from downstairs and bring it upstairs… The upstairs bathroom has a lot of useful storage baskets but they were empty. They could be used for storing towels and toilet paper.
The bottom bathroom door needs sanding to help it open a little easier. It was so difficult that we thought it was locked at one stage. The power socket under the mirror is positioned behind the white wardrobe. You could use a wall decal to make this power socket stand out a little more.
The Airbnb storage room was neatly locked away in a "hidden room". I love it when people do this. It keeps household cleaning products out of sight. Both bathrooms were very clean. Nicely done.
Bedroom (Lower Deck)
There's no light switch on the bedroom walls. If you enter the room at night you must walk past the bed to turn on the lights above the bed. If it's not possible to add light switches, use battery LED light switches.
Airbnb Profiles
Your profile is a great way for others to learn more about you before they book your space or host you. When your profile is robust, it helps others feel that you're reliable, authentic, and committed to the spirit of Airbnb.
I recommend:
taking a higher quality photo closer to your face.
add a little "about me" to demonstrate how you like to host and what hospitality you offer. For example – if you're open to answering questions and offering Riga suggestions – why not include this in your profile?
work towards obtaining the superhost profile badge.
Kitchen & Basic Food Items
Incorporate cleaning the fridge and checking for mold in food items as part of the regular cleaning routine (if not already). I recommend removing almost all perishable food items – especially pasta sauces which are likely to be full of mold and fungi in a short period of time. There's only a small minority of food items I would keep in the fridge for common use like soy sauce, water and lemon juice. I'm not sure about frozen common-use foods (like pelmeni) yet but as a general rule – if the food item has been opened it shouldn't be there.
If you'd like to add additional food items to your kitchen consider throwing in dried pasta, 2 minute noodles and unopened pasta sauces. Canned food like baked beans could be an affordable addition too.
Parking
Parking in the Old Town without paying is likely to get you a fine within minutes, even if you're just dropping off your luggage. Here's a few things you can do to improve the information regarding parking:
Warn your guests ahead of time "Parking without a ticket costs 53€. Please don't do it.".
If providing an address for a parking location – check the address is provided in full and spelt correctly. Check the address against Google Street maps.
Messages
Your messages were very informative and from a customer service POV. I especially liked the phrases "feel free to ask questions" and "let us know if we can help you more" and "can we assist you more?". Well done. I might incorporate these phrases into my own templates. Well done!
Here's a few improvement suggestions:
160C Welcome Message
Make a good first impression and save time with a welcome message template. They're effective when written clearly. It's the fastest way to welcome your guest with useful check-in information. The example below is 160 characters (1 SMS) but longer messages are possible:
Welcome to M's Airbnb: 1 Tartu Tn Tallinn (Apt 7). Self Check-In after 2PM. Door Code 3871#. WiFi: M's Loft. PWD: Tallinn2020. Aitäh & head reisi! Ph: 57534747.
Experiment with writing your welcome message into this freeonline tool "https://www.lettercount.com" – and try to keep the characters at either 160 characters (1 SMS) or 320 characters (2 SMSes).
Your original welcome message is 964c (6 SMSes). Here's a modified shorter version of your own welcome message 480c (3 SMSes):
"Thank you for booking our Riga Airbnb. We'll send self check-in door PIN codes & additional information before you arrive. NB!
 Check-in is 15:00. Check-out is 11:00. The Airbnb is on the 2nd floor."

"TRANSPORT
 TAXIS: (apx 15€) Panda +371 67600006, Bolt (7€ discount credit code: S6R6D) or Yandex (Apx 15€ from Airport). BUS (apx 2€): Nr.22 + 10 min walk Central Station to the Airbnb." 
"Happy to offer suggestions for the Old Town. Feel free to ask us any questions. Kind regards,"
The Bolt promotional code will give all of your guests 7€ credit. In our case it made the trip from your Airbnb to the Airport completely free! Feel free to share it with others or try the promotional code yourself (with the app).
Goodbye Message
"Goodbye Message" templates should thank guests for staying and encourage them to leave a review. If your planning to leave a 5 star review for them – mention it. Never forget to thank your guest for staying. Here's another 160 character (1 SMS) example:
Thanks for staying at R's Airbnb. It was our pleasure hosting you. We've left you 5 stars. We're new to Airbnb so please leave us a review too. 🙂 Happy travels
NB! Remember your SuperHost status can be negatively affected by guests not leaving enough reviews. For this reason you should encourage guests to leave you a review especially on their departure.
Check-In Times
The sooner a guest can check-in the better. Where a check-in time isn't specified Airbnb will default to 3PM (15:00). I recommend an earlier check-in time closer to that used by many hotels – 2PM (14:00). Alternatively, you may prefer to set your own check-in time and leave it at that rather than asking the guests for their check-in times (guests travelling may not know their arrival time ahead of time).
Photography
Your photos are very professional, well lite, set to the appropriate resolution and displayed in a logical order.
Well done!
Simple Bathroom Extras
Include these items to add more value to your bathroom:
wall-mounted soap dispensers,
disposable razors,
one-time use toothbrush and toothpaste, and;
shampoo and conditioner.
Simple Special Touches
An umbrella for rainy days. Especially on the day of our arrival to Riga it poured down and in-fact we ran into H&M to buy 2 umbrellas for about 5€ each.
A welcome drink in the fridge.
Disposable Razor.
Chocolates, Pop-Corn, Bottled Water.
Fresh flowers.
Fruits.
A welcome message card.
A welcome book / instructions.
Books, Magazines (see also Airbnb's Free Gift).
Airbnb's Free Gift
You already had a great selection of board games – which is very necessary for the Baltics (especially in winter). Ensure your shipping address is up to date. Airbnb may ship you a free gift which you can use to add value to your apartment. In my case I simply asked Airbnb for a free gift (after a couple of years). They agreed and I received a "toppling tower" game. Completely free. This simple but fun game might be useful for guests looking to stay inside during colder winter days. You may need to acquire Superhost status first.
Airbnb Superhost Status
Superhosts are experienced hosts who provide a shining example for other hosts and extraordinary experiences for their guests.
Being an Airbnb Superhost has its rewards! To name a few – your property will be given priority placement in searches and a dedicated filter enables guests to narrow their search to display Superhosts.
For each year of maintaining Superhost status, you'll receive travel credit. Keep a close eye on your progress here: https://www.airbnb.com/progress/opportunities/superhost and work carefully to achieve this first mile-stone goal.
Stay Up To Date
If you've improved your property with any of these ideas be sure to update your Airbnb's listing so customers know what a great job you've done.
Thank you. Aitäh! R for the enjoyable stay and the chance to see your Airbnb!
---
Pst! Support my work through a donation or by simply using one of my referral codes (like the Bolt Taxi one I mentioned). Please visit me here: Support Jaiven's Travel Blog