Non-EU/EEA digital nomads, travellers and expats can open bank accounts in Estonia. However, it can be expensive without residency. Here's what you need to know:
Residency and Bank Fees in Estonia
Without a Temporary Residence Permit (TRP) you'll lose hundreds of euros by opening a bank account in Estonia. All banks charge non-residents inordinate fees.
Here's what you want to avoid:
The obvious non-resident solution is a European Financial Institution, like TransferWise or Revolut. Both of these FREE to sign-up options will get you a European debit Mastercard.
My Experience with TransferWise
I've been a TransferWise customer since 2016. Having moved over $120,000 AUD with TransferWise I can say I've grown to trust this Estonian company. I've personally visited their office once and I've met a couple of their staff too. Their customer service is flawless.
They hold accounts in most countries (including Australia). You can load any currency via local bank transfer. All fees are clearly visible too. No surprises!
TransferWise is also a good employer. Their stylish Tallinn office is a bit of a playground. I believe there's a sauna in there… Furthmore, looking at their Glassdoor ratings – TransferWise is rated #6 on a list of top employers for tech talent in London!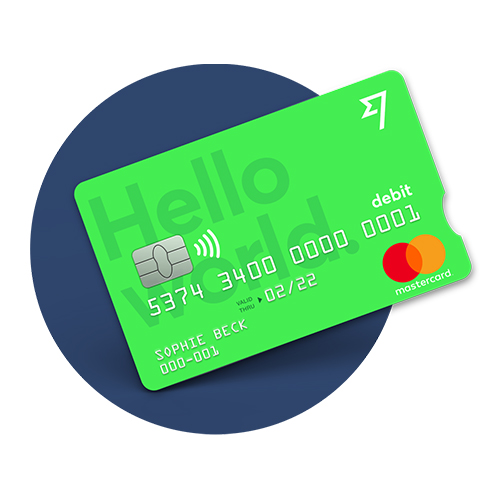 Revolut
Revolut came out of the UK's start-up scene and is headed by Nikolay Storonsky. It's a digital banking alternative, like TransferWise and one of the fastest growing fintechs in Europe. Revolut and TransferWise claim around 4 million users each.
Revolut doesn't have local bank accounts in several countries. Yet. Revolut recently launched in Australia. Topping-up your Revolut account from a non-EU/EEA bank involves an IBAN transfer or Mastercard / VISA. Today, loading $1,000 AUD via VISA would cost $16 AUD~. Even still, cheaper than purchasing euros from a local bank in Australia.
Revolut's features differ from TransferWise's. Revolut can hold up to 25 currencies. The app-only experience includes extras like budget and fraud controls, currency watch-lists and even travel insurance. You can also purchase cryptocurrencies with Revolut. TransferWise users by comparison have been banned for purchasing cryptocurrencies.
Non-Residents Stop Here.
If you're a non-resident and you do not intend on applying for residency in Estonia – TransferWise and Revolut are my only recommendations. It's not reasonable to pay hundreds of euros to open a bank account.
Temporary Resident Permit (TRP)
Please note, for banking purposes a Temporary Resident Permit is not:
e-Residency (see warning below); nor,
a 6 month temporary residence permit.
In Estonia, Temporary Resident Permits (TRP)s are issued by the Police and Border Guard Board. Successful applicants are added to the population register of Estonia and given "ELAMISLUBA" cards like this:
A Warning about e-Residency
Understandably, many digital nomads are confused about what e-Residency offers. The expectation is sometimes met with harsh reality. Here's what can happen if you fly to Estonia with your e-Residency card looking to open an Estonian bank account (without TRP):
"On their [LHV Bank] web page I read that there is no monthly fee and no cost for opening an account. I managed everything online/by mail and got the confirmation that I may open an account. I flew to Tallinn only for the signature but then I had to sign monthly fees of 20 € and opening costs of 240 €. Somewhere on the webpage pretty hidden it was mentioned, that the cost free accounts are only for permanent residents. It would have been nice to mention it in advance before I booked a flight. I did not open the account. I found a different online bank (not an Estonian one) which offers cost free bank accounts for digital residents and or Estonian limited companies. (Osaühing) Thank you for polluting the planet and wasting money and time." – Google Review on LHV Bank (Tartu maantee 2, Tallinn).
e-Residency's own website does touch on this significant and disappointing limitation, but it's not broadly advertised. Here's the last paragraph of e-Residency's "Banks in Estonia" article:
"E-Residency does not grant any rights to open a personal bank account in Estonia. Banks, in general, wish to see a strong connection to Estonia and are reluctant to open an account for non-residents. You will need to demonstrate your connection to Estonia. As e-Residency programme is focused on enabling business banking opportunities, we do advise contacting the bank directly before making any travel plans to Estonia.".
Which Estonian Bank is "The Best"?
Dive-group surveyed Estonia's banking sector in 2018 and named LHV as offering the best service. SEB took second place. Survey: http://www.dive-group.com/et/dive-top3-pangandussektori-uuring-2018/
Ask online and expats will tell you LHV and SEB are "the best". These banks service very different clientele. LHV is especially popular with digital nomad types. SEB is a traditional bank with brick and mortar branches.
Estonian Banking Fees
Here's a comparison of bank fees from LHV:
| | LHV | Swedbank | SEB* | COOP |
| --- | --- | --- | --- | --- |
| Opening fee | 0.00€ | 0.00€ | 0.30€ | 0.00€ |
| Monthly fee | 0.00€ | 0.00€ | 0.30€ | 0.00€ |
| #5 intra-bank payments | 0.00€ | 0.80€ | 0.80€ | 0.00€ |
| 3 EU payments | 0.00€ | 1.10€ | 1.10€ | 0.60€ |
| 1 bank card (monthly fee) | 1.00€ | 0.96€ | 1.00€ | 1.50€ |
| 100 € cash withdrawl | 0.00€ | 0.00€ | 0.00€ | 0.7€ |
| per annum | 12€ | 34.80€ | 38.88€ | 33.48€ |
* SEB's fees are based on the SEB+ plan. The SEB Super+ plan includes unlimited intra-bank transactions for 2.95€ per month (with a card) / 35.40€ per annum. Still, very expensive.
What are "Intra-Bank Payments"?
# In Estonia VISA/Mastercard payments aren't the norm. Purchases are commonly made through internet banking accounts as "intra-bank transfers".
Examples of "intra-bank transfers":
Pizzakiosk (takeaway);
ELRON (train tickets);
SUPER Top-Up (prepaid mobile phone);
Telia (home internet);
Online shopping;
Purchasing insurance;
Household bills.
Over the past 10 years I've paid 333€~ in fees to SEB (roughly 33.3€ p.a.). It seems close to the fee comparison table above. However, my account was fairly dormant over those 10 years.
In January 2019 I moved to Estonia and began using my SEB card almost daily. In the past 12 months alone I've paid 75.83€ in fees. Mostly "intra-bank payments" fees. Last month I performed around 17.
All about SEB Bank
"SEB Pank" is an Estonian bank, owned by the Swedish – Skandinaviska Enskilda Banken, owned by the famous Wallenberg family. Off topic: Raoul Wallenberg's historic story is worth reading.
SEB universal (full service) banks are located in Sweden, Estonia, Latvia and Lithuania. SEB operates corporate banks in Norway, Denmark, Finland, the UK and other parts of the world. In typical Swedish fashion, SEB prides itself on responsible investing.
Citing The Banker (a UK publication), SEB notes it was named "best bank in Estonia". Allan Parik (Chairman of the Management Board of SEB Pank) goes on to say "we value the customer-centred approach".
My customer service with SEB over the years has been satisfactorily average. Not terrible. Nothing special. A few examples:
I queried my fees via email. SEB's reply was simply "I suggest you choose the SEB plan that suits you better." (with some niceties either side). Like I said. Not terrible. Nothing special.
Far too many transactions are done in-branch. Almost every transaction requires a fee, printed paper and a signature. New bank cards are collected in-branch. Strangely they're handed to you – in an envelope – with your own postal address on it. When my card arrived in-branch, I didn't receive any notification.
As so many transactions are done in-branch it's no surprise their fees are so high and the queues long. Smaller SEB branches like the one in Viljandi offer better service. The Tallinn (Tornimäe 2, 15010 Tallinn) branch has appalling Google reviews.
SEB has 5 pain points for foreigners:
English isn't commonly spoken in smaller SEB branches.
Their non-resident fees are inordinate.
It's not digital friendly. Expect many in-branch dealings.
SEB's app requires a VPN to download if abroad!
Serious complaints about account closures.
In google reviews you'll find complaints about bank account closures "without any reason". It's rumoured this activity came about in mid-last 2017 following a purge of e-Residency bank accounts. Freedom Surfer provides an excellent article hinting many accounts were closed to meet EU regulations. See also: https://news.err.ee/691549/e-residency-program-under-threat-as-banks-closing-foreigners-bank-accounts
Despite all of this, I'll remain a loyal but tighter SEB customer. I'll have strong ties to Estonia for life and so I'm not at risk of a non-resident purge. The SEB platform is simple to use. It's even easy to buy shares with SEB. Being a traditional, universal bank face-to-face service "is a thing" when it matters.
LHV Bank Account?
LHV is a modern bank (branchless and cashless) with a fintech focus. It's a real bank, not a "digital disruption" service of sorts. In some ways LHV's similar to ING Direct in Australia. Being branchless reduces overheads and eradicates long queues. LHV has a vast ATM network, which after Dankse Bank's departure, increased five-fold. This enables LHV customers to make cash deposits.
LHV's offices in Tallinn and Tartu are more like business class lounges than traditional bank branches. Good service, modern decoré and even coffee are rumoured on offer. If you're a resident you can open an account completely online with your Estonian ID. There's no need to visit their office.
If you can't verify your ID online you can visit a LHV "identification point". Instead of branches, LHV partnered with EURONICS and SELVER stores across Estonia to support these offline demands.
In my case I was able to sign up using my Estonian ID. The entire process took a couple of minutes and was 100% paperless and online. Understandably, LHV is popular among digital nomads like: micropreneur.life, freedomsurfer, nomadgate and Asad Zulfahri. However, LHV's non-resident fees aren't competitive for digital nomads with no ties to Estonia.
Despite LHV's excellent google reviews (5 stars for Tartu, 3.9 for Tallinn), there are several complaints. Mostly of the same nature. Many non-residents don't expect inordinate fees. LHV should make the 200€ non-resident fee clearly visible on their website. Doing so would only deter non-customers and reduce complaints. I can't imagine anyone happily paying 200€ for a bank account. Transparency is the best policy.
LHV's 5 strengths:
TransferWise is built into LHV's platform.
LHV offers free unlimited "intra-bank transfers".
The LHV debit Mastercard doubles as a partner-card.
Residents open accounts online and for free.
LHV is a real bank.
Are these products safe?
Yes. They're safe.
TransferWise and Revolut are authorised Electronic Money Institutions regulated by the Financial Conduct Authority (FCA) in the UK. TransferWise was born in Estonia, Revolut out of the UK start-up scene. Today both operate within EU and UK jurisdictions.
Revolut's been granted a licence by the European Central Bank and may soon become a bank.
LHV and SEB are fully licenced banks operating in Estonia under strict regulations. Banks in Estonia take the law seriously. Authorities proved themselves tough in the fight against money-laundering activities. Danske Bank's story provides a good example.
SEB follows the UN Principles of Responsible Investing. It has a unique family history of ethical, honourable practices.
Conclusion
A European bank account is very convenient to all sorts of people who travel. If you don't have legal residency in Estonia, stick with TransferWise or Revolut. Their Debit Mastercards are everything you need.
If you're an Estonian resident, LHV and SEB are great options. Pay particular attention to intra-bank fees and consider whether their services meet your digital needs.
Financial Disclaimer
I am not a financial advisor and this blog post is not financial advice. The information provided is generally derived from my own personal experiences. Some links in this article are affiliate links. If you click on them I may earn a small commission and you may receive a discount.